THE ELITE FISHING SYSTEM ™
The new Elite Fishing System (FS) gives you access to the full line-up of Lowrance fish finding tools – including ActiveTarget™ Live Sonar, Active Imaging™, Fish Reveal and preloaded C-MAP® Contour™+ charts – to help you make the most of your time on the water.
NETWORKING
For the first time ever, Ethernet networking comes to the Lowrance Elite family, share sonar, charts, waypoints and other user data between multiple displays. Support and control of NMEA2000® devices, build the complete Elite Fishing System for freshwater or saltwater.
Share sonar, charting, waypoints, and other user data between displays
Supports sonar accessories such as ActiveTarget™
Supports Active Imaging™ 3-in-1 sonar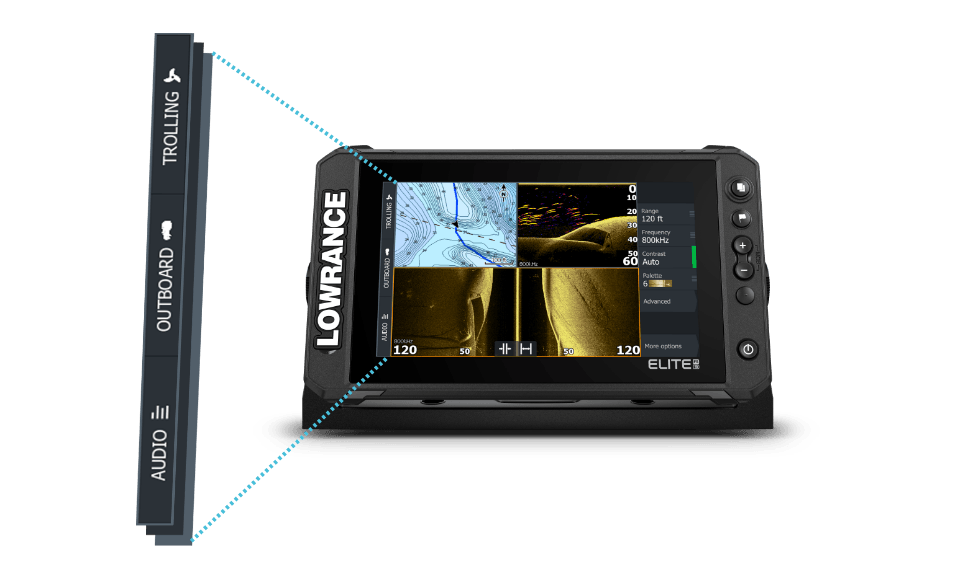 Drive Lowrance radar domes directly
Support and control NMEA2000® devices
Full touchscreen control of Power-Pole® anchors and Ghost® Trolling Motor

Perfect for pinpointing fish-holding areas like rockpiles, standing timber, weedbeds, ditches and drop-offs, Active Imaging™ sonar delivers superior clarity and the highest resolution images of fish and structure at a longer range than any other structure-imaging technology.
*Transducers sold separately.

Watch high-resolution images of fish movements – tracking them as they swim in and around cover with Active Target Live Sonar. When you see how fish are located near structure and watch them respond to your lure, you will know if your current technique is working, or if it's time to make an adjustment – information that is harder to get from traditional sonar or structure imaging.
Track fish and your presentation with high-resolution views in front or below your boat, or use the Scout mode to see an ultra-wide, overhead view of structure and fish activity in front of your boat, perfect for finding bait balls and big schools of fish. Game on.
*Transducers sold seperately.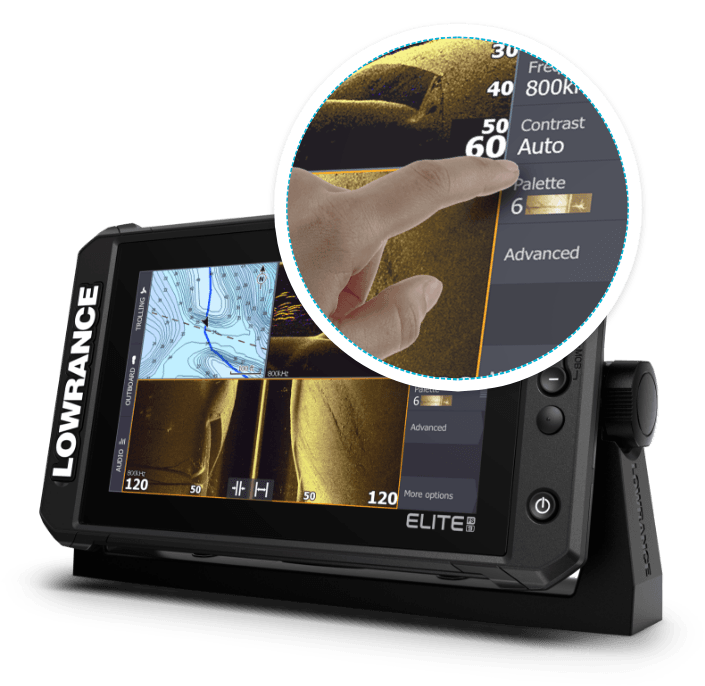 KEY FEATURES
Integrated wireless, NMEA 2000® Ethernet connectivity
C-MAP® Easy Routing, Navionics® Autorouting capability
High-resolution multi-touch touchscreen
ActiveTarget™ Live Sonar ready
Preloaded C-MAP Contour+ with 1-foot contours on 8,900 lakes
Full touchscreen control of Power-Pole® anchors and Ghost® Trolling Motor
Active Imaging 3-in-1 readyC-MAP Genesis Live on screen mapping
FishReveal™
MAPPING
Find Key Fishing Areas with Contour+
Spend more time trying to catch fish and less time trying to find them with the high-resolution detail of C-MAP® Contour™+ inland and coastal charts built into Elite FS displays. From finding key fishing areas, like ledges, drop-offs and ditches to navigating with precision to fish-holding areas, you will have more success on the water with high-resolution 1-foot contours on 8,900 U.S. lakes. Simply switch on Genesis Live for real-time mapping too.
Crossed Industries, L.L.C. is NOT responsible for any damage or failure resulting from improper installation.